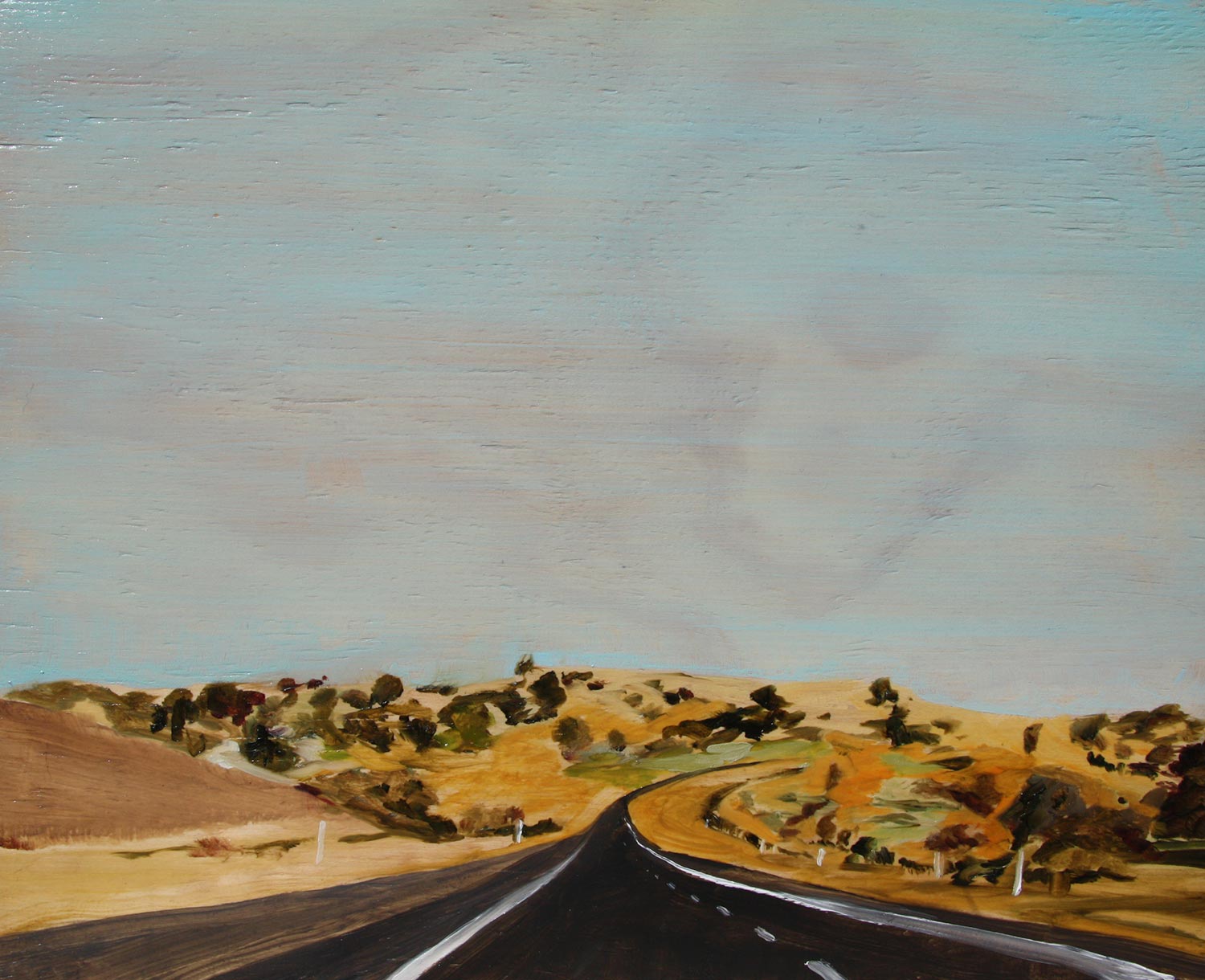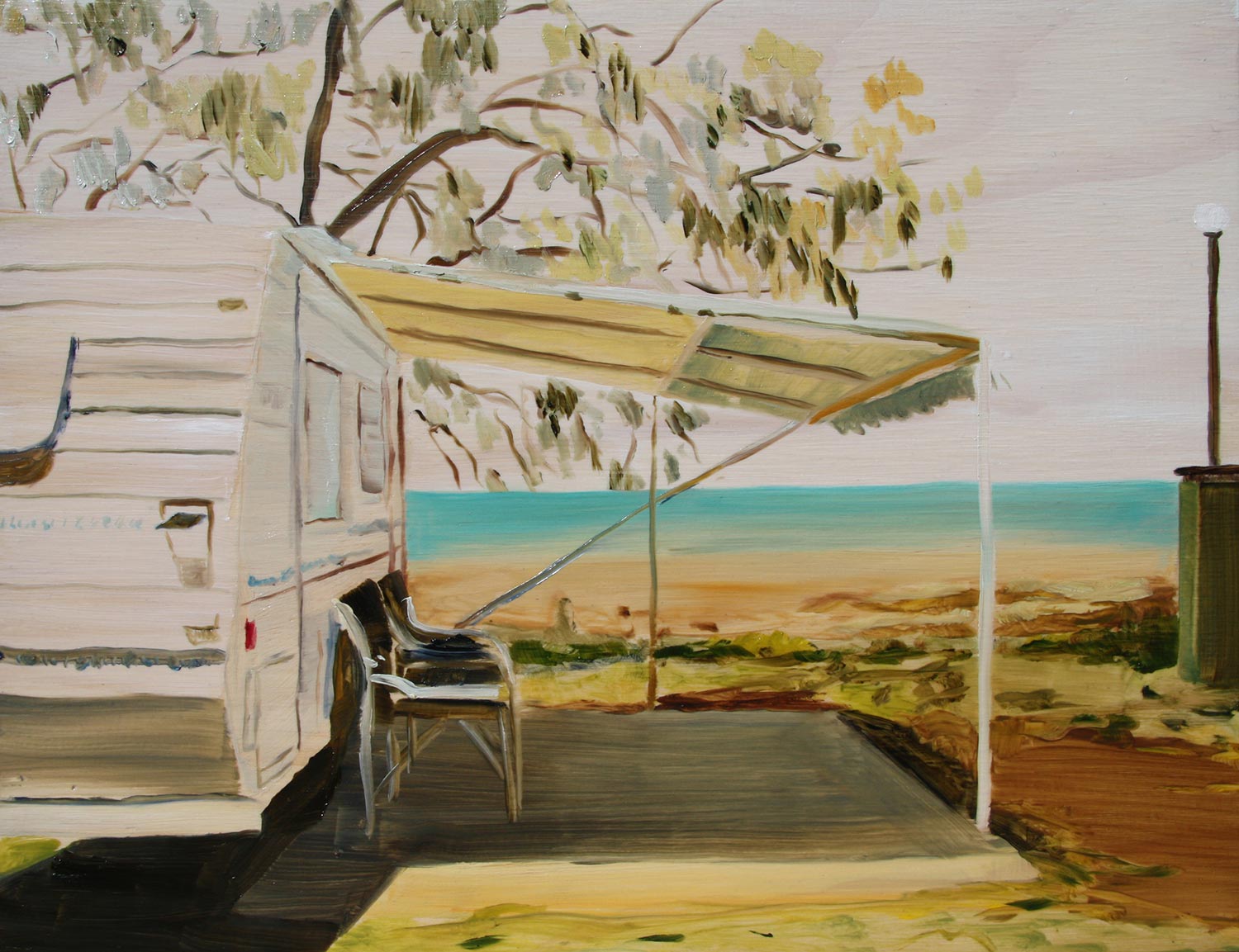 Artist Statement
"Cohuna Diaries" Solo Exhibition at Anita Traverso Gallery, Melbourne - 2009
Photography, writing, video and oil painting have been used to investigate ideas relating to landscape, travel and intimacy in this new series. The small oil paintings are based on photographs I took while travelling in Australia and New Zealand and their lengthy titles are extracts from my personal journal. These provide a glimpse into my private, interior world of neurotic musings, day-to-day trivia and observations.
Combining paintings of farmland, animals, trucks and landscapes with such personalised titles, the works explore the segmented, sometimes dislocated experience of travelling through changing scenery while still contemplating my personal life, feelings and relationships in the face of supposed leisure.
'Cohuna Diaries' refers to the small country town of Cohuna, in northern Victoria where I was born. Last summer I returned there for the first time in fifteen years. I was searching for connection within the landscape that was my home until I was six years old.
Being an irrigation district, the landscape around Cohuna had been transformed dramatically by the drought. Seeing the farmlands and my old home, I was struck by the desolate plains and cracked earth. Returning to my studio I soon painted the photographs I took there and later added the titles from my journal.
A new mode of working for me has been using photographs as artworks. I've written word paintings[1] or further extracts from my journal in permanent pen over the photo's surface. Many pictures in the series were taken within five kilometres of my home in Brisbane. The descriptive writing was a way of noticing and recording the details of my local surrounds.
Whether travelling through my local neighbourhood, revisiting rural Australia or journeying overseas, a large part of the experience is affected by an interior world that occurs almost independently of my surroundings. As the philosopher De Botton writes,
It is unfortunately hard to recall our quasi-permanent concern with the future, for on our return from a place, perhaps the first thing to disappear from memory is just how much of the past we spent dwelling on what was to come: how much of it, that is, we spend somewhere other than where we were.

[2]
Through these paintings and photographs, I'm trying to present a more accurate representation of my experience of landscape and place – a representation that celebrates nature but is not divorced from the psychological landscape I constantly inhabit.
[1] 'John Ruskin's word-paintings derived from his method of not only describing what places looked like ('the grass was green, the earth grey-brown'), but also of analysing their effect on us in psychological language ('the grass seemed expansive, the earth timid'). He recognized that many places strike us as beautiful not on the basis of aesthetic criteria – because the colours match or there is symmetry and proportion – but on the basis of psychological criteria, because they embody a value or mood of importance to us.' Alain de Botton, 'The Art of Travel', Penguin Group, London, 2003, p.234
[2] Alain de Botton, 'The Art of Travel', Penguin Group, London, 2003, p.23
"Cohuna Diaries"
exhibition installed at Anita Traverso Gallery
Want to See More From My Portfolio?
THESE LINKS LEAD YOU TO MY OTHER EXHIBITIONS
Want to Purchase a Painting?